Services
วันที่: 2017-02-09 17:08:35.0

We, DSL Group, aim to provide wide range of services by follow our 3Q outstanding service policy to reach customers satisfaction. Quick response, Quick service, and Quality service are what we do as below;
AFTER SALES SERVICES
---
There are more than 200 mechanics and 60 service vehicles prepare for operation to serve our customers everywhere.


We are provides free inspections approximately 6 times over 12 months in services and maintenances after delivered for clients who purchases our forklifts.


All products supplied will deliver with high quality and warranty.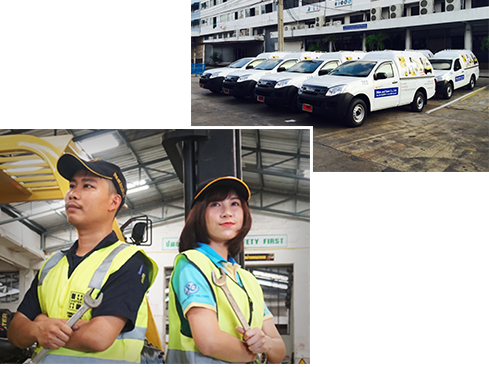 SERVICE CONTRACT
---
Customer's forklifts will be check-up by our mechanics periodically which is no extra charge in oil transferring or minor repairs.


At least once, our mechanics will do operate preventative maintenance (PM) for inspects an unpredicted circumstances of customers forklifts.


Our service team will be in charge within 24 hours after customer's requested.


An effective way of maintenance constantly can preserve your machine from a sudden breakdown.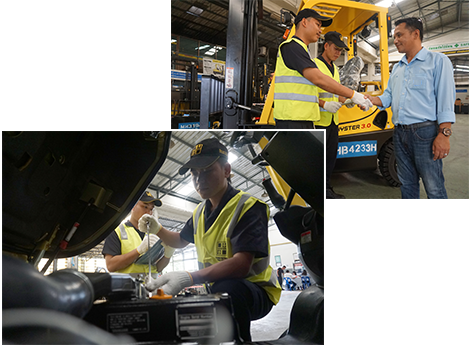 GENERAL REPAIRS
---
Whatever forklifts problems, whatever brands, we can fix. Contact us first and we will send our mechanics to help you instantaneously.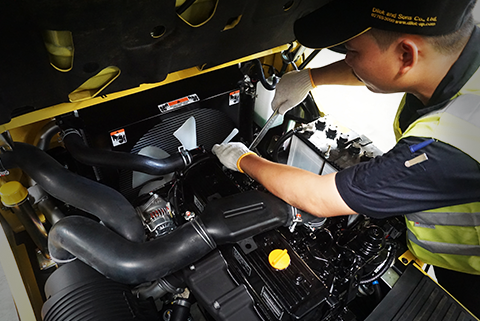 TRACTION BATTERIES PREVENTIVE MAINTENANCE
---
If electricity is what customer's preference, traction batteries preventive maintenance for forklifts is what they need.


We have mobile battery service vehicles to serve our customer everywhere.


Customer can rely on our traction batteries services because we specialise on it.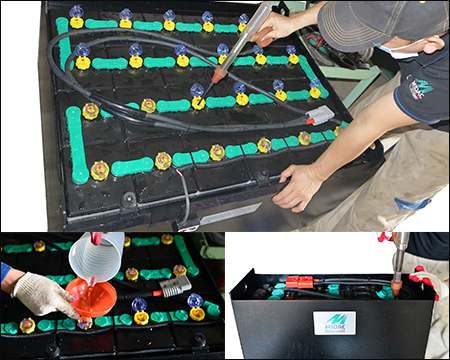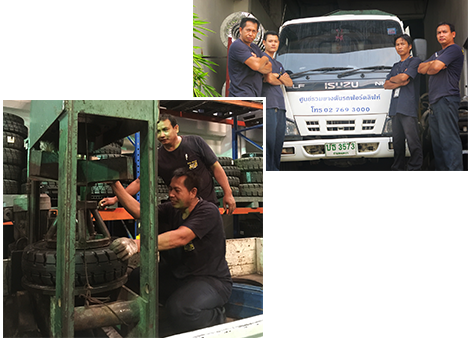 TYRE CHANGE SERVICES
---
Mobile tyre press vehicles are ready to serve our customer in every area.


Our tyre services will be at customer no longer than 24 hours after requested.


Free inspect lifetime of tyres.


Lot of spare tyres in our store is standing by for services.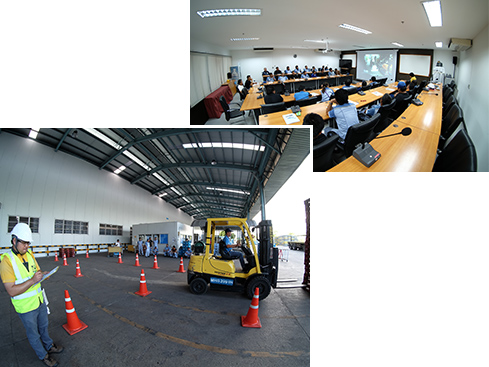 BASIC FORKLIFT OPERATOR & STANDARD SAFETY TRAINING COURSES
---
For customers who purchased or rented our forklifts to learn how to use forklifts as principal for avoid operational risks.


Customers can engage training courses immediately after their forklifts delivered.